Why a slip dress is a necessity in your wardrobe
Courtesy of Harper's Bazaar.
The slip dress is one of the few items that's managed to achieve staple status in recent years. See, the mark of a true capsule piece is not just in its timeless appeal, but the ability to be dressed up and down effortlessly. Versatility is everything.
Back in the Nineties, when designers like Calvin Klein and Narciso Rodriguez introduced us to this 'underwear-as-outerwear' trend, it was seen as a risqué evening look – and most definitely not daywear. Things have since changed: in an ever decreasingly formal society, the boundaries between eveningwear and casualwear are blurring.
By ridding your wardrobe of its 'day' and 'night' limitations, you can get more experimental with weekend looks and shop more sustainably. And the slip dress epitomes this kind of fluid styling: cut from lustrous bias-cut fabric and strung from slender spaghetti straps, it has a louche elegance that's both sexy and grungy all at the same time. Depending on what you style it with, of course.
Worn solo it can be strikingly minimalist (just add a sleek bun and strappy sandals) or rebellious (think Doc Martens). But most impressive of all is this piece's multitasking abilities – throw a blazer over the top to create structure, underpin it with white T-shirts and black turtlenecks, or layer a sweater over the top to create an on-trend slip skirt. Then, simply swap between heels, boots and trainers depending on the occasion.
Naturally, we'd recommend starting with a simple black number for maximum versatility, but more playful designs from the likes of Acne, Alessandro Rich and Saint Laurent are hard to resist. We can assure you, whichever you opt to buy, it will still be bang on trend in years to come – that's the beauty of a true staple.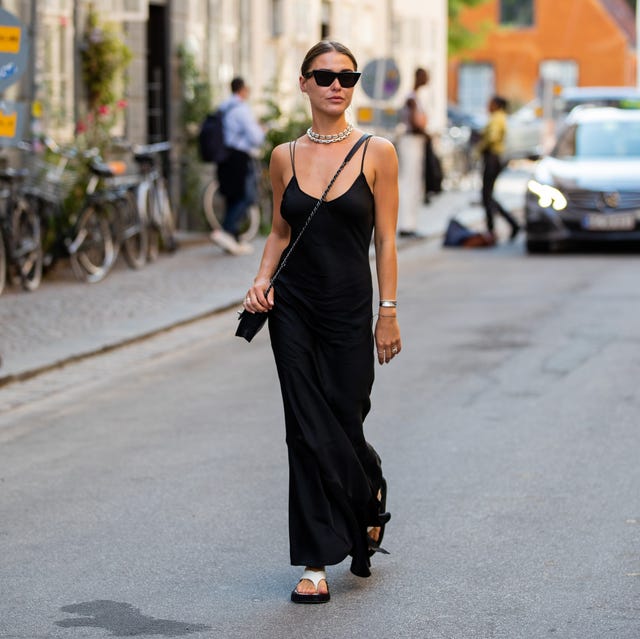 https://www.harpersbazaar.com/uk/fashion/g34324281/slip-dress/
---